Travelers are constantly seeking new thrills and countries are in a constant race to satisfy this new demand. Over the last 5 years, new see-through glass bridges have been popping up around the world and especially in China. These stomach-churning bridges have dizzying heights up to 300 meters (980 feet) above ground! Nevertheless, with the list of the most popular glass bridges in China, this article uncovers the most beautiful, yet most terrifying and scariest skywalks this country has to offer. 
The glass bridges are creatively designed and offer breathtaking views. It can be a glass suspension bridge overlooking a lush forest wreathed with mist, a perfectly transparent glass bridge hanging over a steep grand canyon, or a glass-bottom bridge that surprisingly combines with a spectacular musical waterfall.
So if you're in India, you can take a flight to check out the "Bihar Glass Bridge" whose length is about 85 feet and the width is about 6 feet. 
Here are the top scary glass bridges in China that are absolutely terrifying! 
Zhangjiajie Glass Bridge 
Location: Zhangjiajie Grand Canyon, Sanguansi Tujia Ethnic Village, Zhangjiajie
With a length of 536 meters and a width of 6 meters, Zhangjiajie Glass Bridge is a large valley suspension bridge and is famous both in China and abroad for setting many world records for glass Bridges when it was built. In addition to the skywalk function, it also features a bungee, a swing, a zipline, a runway, wire walking, and other thrilling experiences. Nevertheless, it is definitely suggested to put it on your list, if you are looking for an adventurous and thrilling vacation.
Tianmenshan Skywalk in Zhangjiajie
Location: Tianmenshan National Forest Park, Zhangjiajie, Hunan Province
The Coiling Dragon Cliff of Tianmen Mountain in Zhangjiajie has made its fame for years, and is a must-have thrill for a Zhangjiajie adventure. The glass skywalk in China is 100 meters (328 feet) long, 1.6 meters (5 feet) wide, and around 1,430 meters (4,700 —feet) above sea level. It is comparable to the world-renowned "Sky Road"—the glass corridor of the Grand Canyon in the United States, and thus has the reputation of "Eastern Sky Road." On that note, you can check out the "Grand Canyon Glass Bridge" by booking a flight to the USA. 
Shenzhen Guangming Glass Suspension Bridge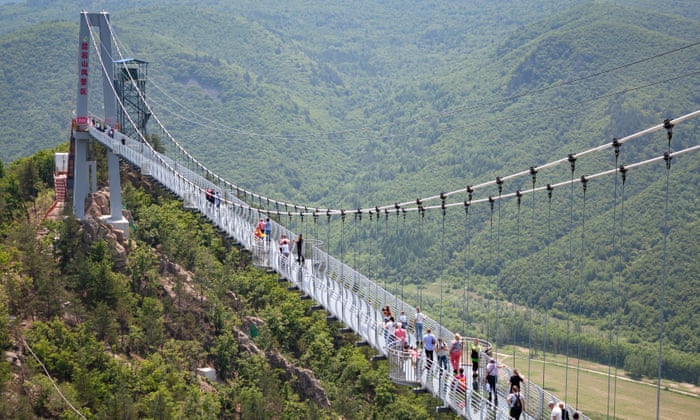 Location: Dadingling Greenway, Guangming District, Shenzhen City, Guangdong Province
For many travelers, Shenzhen is a beautiful, comfortable, and convenient metropolis, but there are not many experiences considered to be thrilling. The good news is, the city now has an amazing glass bridge embedded in the Dadingling Greenway of Guangming District. The bridge is composed of three rings, with diameters of the rings are 50, 30, and 20 meters respectively, suspended in the air dozens above the ground in the forest. Standing on the bridge, you can enjoy an uninterrupted view of the City of Light. The most amazing thing is the technology applied on the glass suspension bridge—it is covered with solar panels that absorb the sunlight during the day and light up the whole bridge instantly when night falls.
Ruyi Glass Bridge in Shenxian Scenic Area
Location: Shenxianju Scenic Area, Taizhou City, Zhejiang Province
This arched-steel-structured glass bridge, integrated with nature and mountains, just looks like a jade ruyi in the sky. When the transparent glass bottom makes people quake, the magnificent natural beauty completely soothes you mentally. The main body of Ruyi Bridge, China is shaped by flexible lines of the main and secondary arches, connected by steel cables, and forming a sky eye in the middle. The bridge deck pavement is composed of steel grille, wood board, sticky stone, and transparent glass, and the guardrails(made of stainless steel wire mesh), which not only ensure the passage of all tourists but also provide a fabulous, clear, and breathtaking sightseeing experience.
If you wish to read more travel-related blogs, then check them out at ImpetusLabs and step into the world of the expedition.
Qingyuan Yuntian Boba Glass Bridge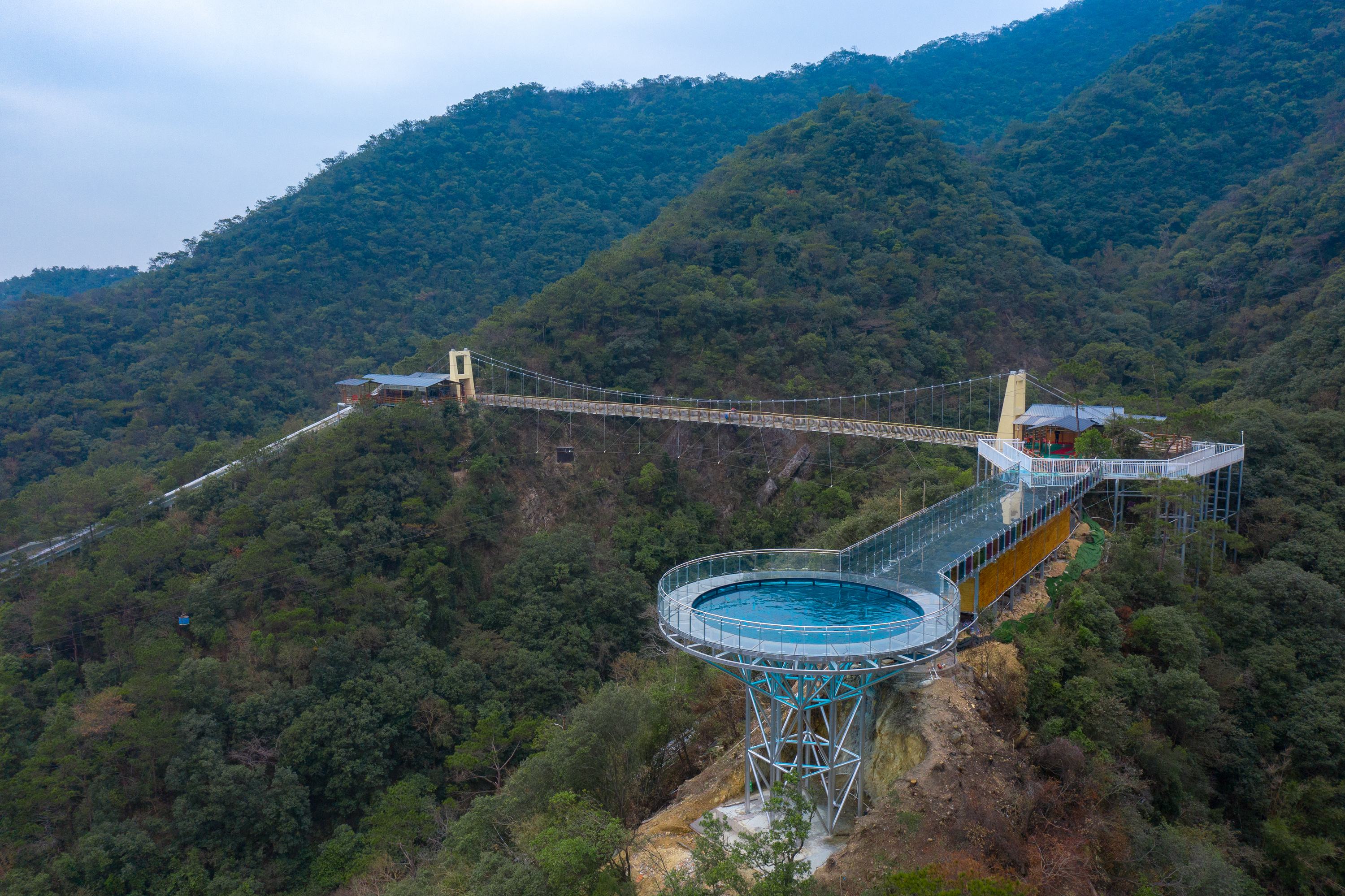 Location: Gulongxia Original Ecological Tourism Area, Qingxin District, Qingyuan City
It is the first of its kind in the world, and is famed as a super cool "glass combination". With a total length of 1,314 meters, it is taken as a glass viewing platform, glass skywalk & glass bridge with views of the waterfall and surrounding landscapes. Moreover, it takes about 45 minutes to complete the entire walk. The platform is 202 meters long and the suspended span is 72 meters. It uses three layers of super transparent glass with a total of 4.5 centimeters, making it one of the thickest plank glass bridges in the world. 
On one of the platforms of the glass walkway, special effects such as "sound, light, and electricity" are installed to create fabulous effects such as "smoke blowing" and "rosy gallery bridge". And the glass bridge China crack effect will make you feel the glass bridge breaking, but it isn't!! 
Cloud Skywalk Bridge
Location: Longgang Scenic Area, Yunyang County, Chongqing
Built on a cliff 1,010 meters above sea level, this glass bridge in China has a cantilever 26.68 meters long. The bridge is 718 meters above the ground, and the walkway is 3.4 meters wide and 50 meters long. In addition, it's the world's longest cantilever glass bridge. Interestingly, this unique landform has been favored by many top extreme sports masters in China as well as abroad. In April 2016, the world's highest low-altitude skydiving competition was held on this bridge, and top athletes from more than 10 countries competed in this thrilling competition. 
Qingchuan Glass Bridge
Location: Lianzhou City, Qingyuan City, Guangdong Province
This iconic yet terrifying bridge is nestled in Huangchuan Three Gorges, known for its stunning landscapes. The glass bridge spans the steep cliffs of Huangchuan Three Gorges, overlooking the largest waterfall group in north Guangdong. This skywalk of China has a clear width of 8.8 m with a bridge level of 201m and is crowned as the "longest Glass-paved suspension bridge" in the Guinness World Record for its 526.14 m glass length. With the vertical circular arc stainless steel guardrail on both sides of the bridge, as well as the eye-catching Chinese red color of the bridge tower and main cable, this glass bridge blends perfectly with the modern and classic Chinese structure.
Walking through the glass bridge, one might tremble with fear, but the scenery is absolutely gorgeous. More surprisingly, it can easily bear the weight of vehicles and you can also see several cars crossing the bridge in style.
Conclusion 
These were the most terrifying and longest glass bridges in China, which you can visit and experience the true sense of thrill and feel the increased adrenaline in your body as you walk through the bridge.